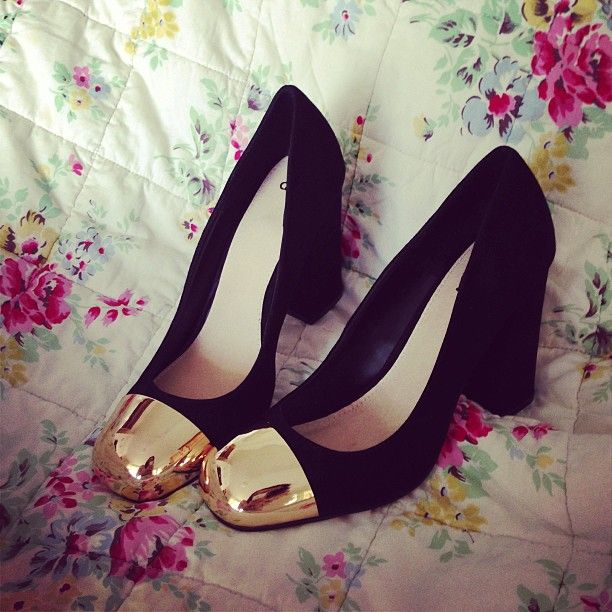 ...these are a few of my favourite things!
This is a little bit of a silly post, but I just could not share my new favourite shoes with you! After seeing very similar ones on the likes of the beautiful Dunya, from Dearest Deer, and a long time wanting a pair of plain black, block heels, I treated myself to these from ASOS with some of my Christmas money (and their 25% student discount!). After they arrived yesterday, I spent a significant part of my evening wearing them whilst tidying up my bedroom and attempting to dance to the Dirty Dancing soundtrack (maybe I shouldn't be admitting that!). Their suede-ness and block heel are a little reminiscent of what i'd imagine my favourite sixties sirens wearing, and I can't wait to pair them with cigarette trousers, a-line skirts and maybe even a beehive. I'm a little bit weary of the gold toe-caps however, fearing that i'll end up looking a bit Goldie Looking Chain and tacky, but at least they will act as a bit of protection (they are rock hard!), ha. But they're perfect for my aim to be able to wear heels on a day-to-day basis without the threat of tripping over, and my pledge to feel a little bit more comfortable in any shoes other than flats in Falmouth. Any suggestions of what I could wear them with?
And now some more important and very exciting news! After a lot of pleading, whining and hinting aimed at my parents from us three girls, they've finally caved and we're getting a little puppy Cairn Terrier next Saturday! I received a surprise phone call from my family last week to say that we'll be picking her up and taking her home next Saturday, so you can imagine just how shocked and ecstatic I was (there was a lot of high pitched, very fast rambling and jumping around!). I've spent the past week telling everyone I know and showing them pictures of just how cute and tiny she is, she looks more like a hedgehog than a puppy! I was initially a little upset that I may not have the chance to meet her for a while, but i'm going to book tickets home for next weekend so I can be there when we welcome her home and introduce her to Bramble and Frank, the Border Terrier and Pug. There is one little problem though that we really need some help with, we're having such trouble trying to name her! We don't want anything too girly or cutesy, any ideas?
Hope you're having a lovely, relaxing weekend, and I can't wait to see your name suggestions!
Love, Charlestown xoxo