December is somehow here, and that obviously means Christmas is just around the corner (just over two weeks away now!). It's pretty hard to escape the festive cheer, what with decorations popping up here, there and everywhere, christmas tunes playing in shops, and festive adverts gracing themselves on our television screens. But, if like me, you feel a bit closer to muttering Scrooge's 'Bah Humbug' than shouting Buddy the Elf's 'Santa's coming, I know him!', i've put together a few festive treats that sure to spread the Christmas spirit! From some of my festive foodie favourites to indulgent treats and a few traditional favourites, hopefully these will add a bit of warmth to a wintry afternoon and get you excited for the next two weeks!
PJs, Socks & Nail Wraps: Topshop | Jumper: Asda | Bath Bomb & Body Wash: Body Shop | Lip Sticks: Soap & Glory | Earrings: Tatty Devine
I don't know about you, but adding little bits of Christmas into my outfits (not too subtly though) has definitely made me much more excited about the upcoming festivities. I think i've found my favourite ever Christmas jumper in the form of this pudding beauty from Asda, and these Ski themed PJ's are definitely going on my gift list to snuggle in after one too many mince pies and jam tarts! Or if venturing out in your tackiest festive jumper isn't your cup of tea, how about slipping on a pair of these Topshop socks, or embellishing your nails with these uber-cute Christmas characters or Festive Fairisle nail-wraps? Additionally, for added festive-ness, how about the Body Shop snowman bathbombs and special range of gingerbread and cinnamon scented goodies for some winter pampering?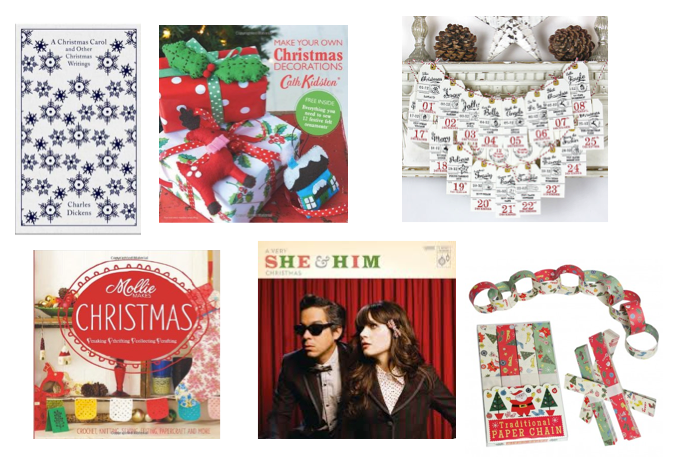 Paper Chains: Dotcomgiftshop | Wall Advent Calendar: Notonthehighstreet
Now there's nothing better at getting you into the Christmas spirit than a good ol' festive song! Even though most of them make me want to shove snow down my ears, I really could listen to the She & Him Christmas Volume all year round, it's also provides the perfect soundtrack for putting up the decorations to! Mollie Makes and Cath Kidston both have lovely books filled with ideas for creating your own Christmas decorations, gifts and other homely goodies, all of which I want to try my hand at. Additionally, I'm looking forward to snuggling down with one of my favourite traditional Christmas stories by Charles Dickens, accompanied with a hot chocolate, of course!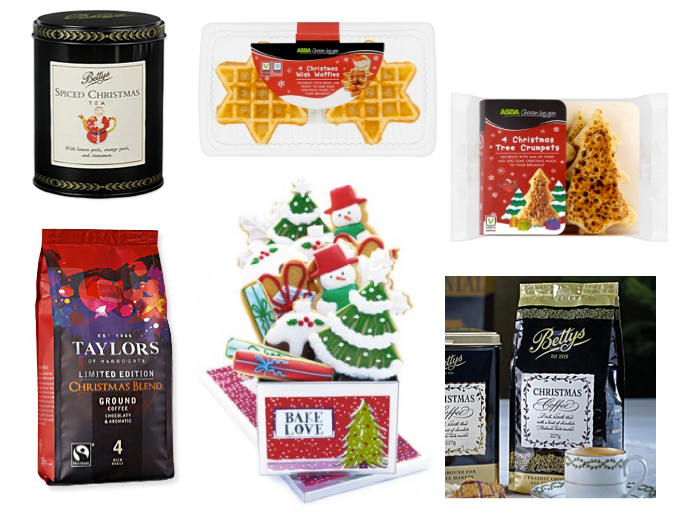 Christmas Tea & Coffee: Betty's and Taylor's | Iced Biscuits: Biscuiteers | Crumpets & Waffles: Asda
Now onto the real treats, Christmas really wouldn't be the same without food, and masses of it. As it's not quite time to be gorging on pigs in blankets, mince pies and one-too-many Ferrero Rochers, how about swapping some ordinary favourites with specially shaped goodies, like these christmas tree crumpets and waffle stars from Asda (smothering them in Nutella is how I'd serve them, ha!). I've always wanted a box of Christmas biscuits from Biscuiteers, all beautifully iced, decorated and served in the cutest tins, I think they would go perfectly with a Christmas blend of tea or coffee from Betty's!